MODERN CURTAIN
Due to changing design styles and their implementation process, following interior design rules is sometimes difficult and complicated.
Modern design style is currently one of the most attractive interior decoration design styles. In modern design, due to the principle of simplicity and avoidance of classic glamor and excessive variety of colors, two views are generally formed by the audience towards this style:
A. A group that finds modern design style boring or boring.
B. A group that sees modern interior design as the epitome of simplicity (that leading to freedom from the mundane hassles).
In designing modern interior decoration, modern curtain design as one of the most important elements of interior decoration is of special importance. Therefore, it should be noted that the inappropriate choice of a modern curtain, due to the contradiction with the modern design style implemented in the interior, may not create and inspire the beauty and feeling that is expected from a modern curtain.
But if you succeed in achieving a modern curtain style that fits your modern space, you can somehow reach a volume of energy and aesthetic sense resulting from the synergy of your modern curtain and modern space, and give a pleasant feeling to the loved ones who will be present in this space.
In this article, we will examine the central principles of modern curtain design .
When we talk about the principles of modern design, we subconsciously think of two-color spectrums, white and black.
In modern interior design, and especially in modern curtain design and minimalist decoration, neutral color palettes will generally be the main suggestion of interior designers.
In modern curtain design, a neutral color is generally used as the work pattern and colors suitable for the interior space in order to create a special visual effect. So, you should keep in mind that a neutral color scheme is suggested to give character to the modern curtain and add a sense of calm to the interior.
Bright color spectrum in modern curtains
Definitely white or a range of white will be a good choice for a modern curtain color theme.
One of the important reasons for choosing this color spectrum is that while being used in modern design, it is also considered a classic and it will give you the possibility of creating color matching between the curtains (as one of the most important components of interior decoration) and other elements in the space.
Another reason to choose this color spectrum is that the white color spectrum basically brings a cozy state to your designed space. And another main reason for choosing this color is that the modern curtain with this color theme, will republish natural light behind the curtain and artificial lights in interior space, to your space with a special style that will have a special effect on the desired space.
The range of dark colors in modern curtains
Are you looking to achieve to the kind of darkness with the curtain-component as a concept of purposeful control of light to create a specific space?
If your answer is yes, the black color spectrum (black spectrum means dark color spectrum and not absolute black) will definitely be a good option for designing modern curtains in your interior.
The interesting thing about dark colors in modern curtain design is that you will not rely on a particular color. But in modern curtain design, it is possible to use dark colors without fear. Modern design does not limit you in choosing a dark color, and it will be the color spectrum that will determine the design policy.
Specifically, in choosing a dark and shaded color for a modern curtain, you can have a choice that may not be any similar color in your modern space with this color, and you will achieve to a kind of abstract harmony by contrast.
Modern curtains and a range of gray colors
Gray, like white, is not only modern but also classic. This lovely color spectrum can always flow in your interior. If your space is modern and you are not interested in creating color contrast in this space, modern gray or smoky curtains can create a work without color contrast and color demarcation in your modern space.
Using this color spectrum in modern curtains is risk-free and will bring a double sense of calm. In addition, choosing this color spectrum will leave your hand free to maneuver on the color combination of other interior decoration elements.
Uncertainty in choosing the color of modern curtains
You may not be able to make a definite decision about choosing your modern curtain color. Because you have chosen a modern design style, you should know that there is no need to worry at all.
In such a situation, creating a colored block in a modern curtain will definitely be a smart and practical option.
When choosing multiple colors with different tones, whether choosing dark colors in classic shades or choosing dark and light colors to differentiate luxury colors, your space is affected in such a way that there is a lot of flexibility in making any changes.
The place of bold patterns, transparent texture net and fabrics with glossy colors in modern curtain style
Modern curtain with bold pattern style
Beautiful patterns with geometric shapes or classic flowers with modern colors have found a special place in the design of modern curtains.
Curtains with relatively large flowers in the 1970s were eye-catching indoors. Now, despite the increasing growth of modernity in the redesign industry, this style of curtain Is taken into consideration with the approach of modernism in interior facades. The most reputable curtain fabric design companies in the world have turned to this style to create postmodern designs.
Modern curtains with transparent texture net style
The use of modern curtains with a transparent texture net style gives a special kind of luxury to the interior.
Using this modern curtain style, both in the living room and in the bedroom space, will create a luxurious and exciting atmosphere in your space.
One of the advantages of using this modern curtain style is that the modern transparent texture net curtain can create a modern minimalist look in the interior alone, and its combination with a magnificent fabric with a framing approach can be a clever and elegant elegance. Give a luxurious look to the desired space.
Modern curtains and metallic colors
The use of fabrics with metallic colors in the design of modern curtains will give a pleasant feeling to your space. To create a sense of luxury in the interior, this type of fabric can be used to design modern curtains, because these styles of fabrics are definitely compatible for modern and minimalist curtain design. The bright of light reflect of this modern curtain style must be matched with the metallic colors in the interior, such as coffee tables, candlesticks, silver or gold decorative sets, headboards, etc.
In this article, we examined the styles of modern curtains and we hope to take a small step towards to increasing your awareness of modern curtains in modern interior design.
Your eyes deserve to see the most beautiful.
Let's look a little different
Summary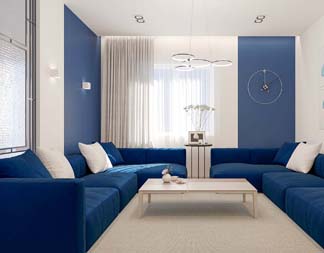 Article Name
MODERN CURTAIN - DECOREBARTAR
Description
Decorebartar help you to choose your modern curtain style and will design and execute it for you.
Author
Publisher Name
Publisher Logo